Making walls and ceilings safer with PVC wall cladding has never been so important. Human contact with surfaces in hospitals, dental practices and other health facilities can spread serious infections. If a patient or someone with a lowered immune system touches a wall that has not been thoroughly cleaned, they can be more susceptible to infection. That is why a vigorous approach to hygiene is essential, especially in high traffic or treatment areas.
Legal firms in the UK are currently encouraging those infected with MRSA to file compensation claims. They are promising 'maximum compensation' and offer free advice. Claims can include general damages, medical expenses (including travel costs), loss of earnings and care expenditure. So, healthcare providers need to consider the knock-on costs of poor hygiene as well as the impact on individuals' lives. While wider use of alcohol gels in hospitals should be encouraged, better use of easy-to-clean surfaces is just as important.
Better hygiene with PVC wall cladding
Greater awareness about no-win no-fee legal claims is encouraging more people to make claims again the NHS and other care providers. MRSA, a bacterial infection that can be resistant to commonly used antibiotics, is one area hospitals can tackle more confidently with robust sanitation. By targeting surfaces service users are most likely to come into contact with, risks can be significantly reduced.
PVC wall cladding is ideal for hospital waiting areas, corridors, wards, and operating theatres. That is because it is undemanding to clean. A sleek finish means deep cleaning is effortless. With good protocols, intensive cleaning and sanitisation can be carried out quickly and not interfere with the safe running of a facility.
Hygienic cladding for hospitals and health facilities
CleanClad is the brand trusted to supply and install PVC wall cladding, as well as PVC ceiling cladding, in hospitals and other healthcare facilities. It is the leading name in hygienic cladding because it leaves nothing to chance. With the widest range of cladding sheet and accessories, not to mention an impressive background in serving the NHS and other household names, it ideally placed to help you drive up hygiene standards and reduce the risk of a compensation claim.
You can order PVC wall cladding online at CleanClad or contact the company on 0808 1649 554 for more information about its installation service.
Product Spotlight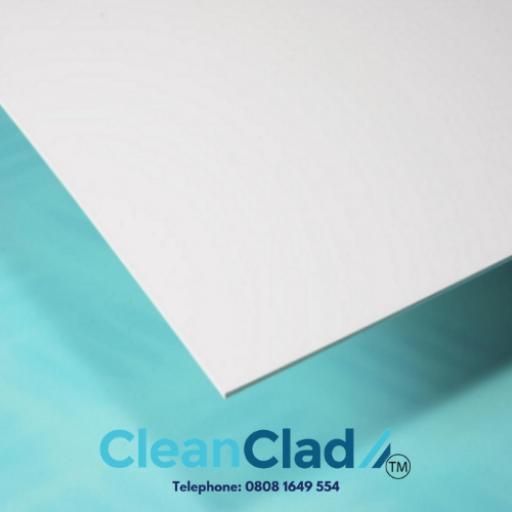 With a smooth, semi-gloss finish, this 2.5mm hygienic wall cladding is both robust and versatile. It is suitable for use in any environment. Stocked in two sheet sizes, this product is also available are a range of 2.5mm pastel coloured PVC wall cladding sheets.